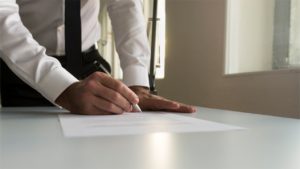 We provide notary public services to both local and international clients. We also represent foreign organisations that require specialised notarisation for their Nigerian clients or contracting parties.
One of our partners, Olawale Ajetunmobi is a Notary Public for Nigeria duly appointed by the Chief Justice of Nigeria. By his appointment as a Notary Public, he is deemed in law as an Officer of the Supreme Court of Nigeria.
Our notary services are carried out with utmost trust, care and confidentiality, thorough scrutiny and professionalism required of such services. We ensure due diligence on the identity and authority of the concerned parties where necessary.
Our notary public services provided to various individual and corporate clients include:
Our notary services are rendered on arrangements most convenient for our clients' schedules. We are always available at our offices and we also visit our clients' place of business for notarisations where required. We are also able to keep appointments both on weekdays and weekends to serve our clients.
If you require any of our notary public services, you may please reach out to us at any time on any of our contact platforms below (including WhatsApp and Telegram):